Weather experts worldwide and in your community have emphasized the need for early warning systems in preventing natural disasters like earthquakes, heat waves, and floods.
Early warning systems are a significant part of disaster risk reduction, according to Mami Mizutori, Special Representative of the Secretary-General for Disaster Risk Reduction in the United Nations Office for Disaster Risk Reduction (UNDRR), who delivered the keynote address at the Regional Conference (RECO) of World Meteorological Organization's Regional Association II (Asia), which began on Monday in Abu Dhabi. They also lessen the financial toll that natural disasters have on society.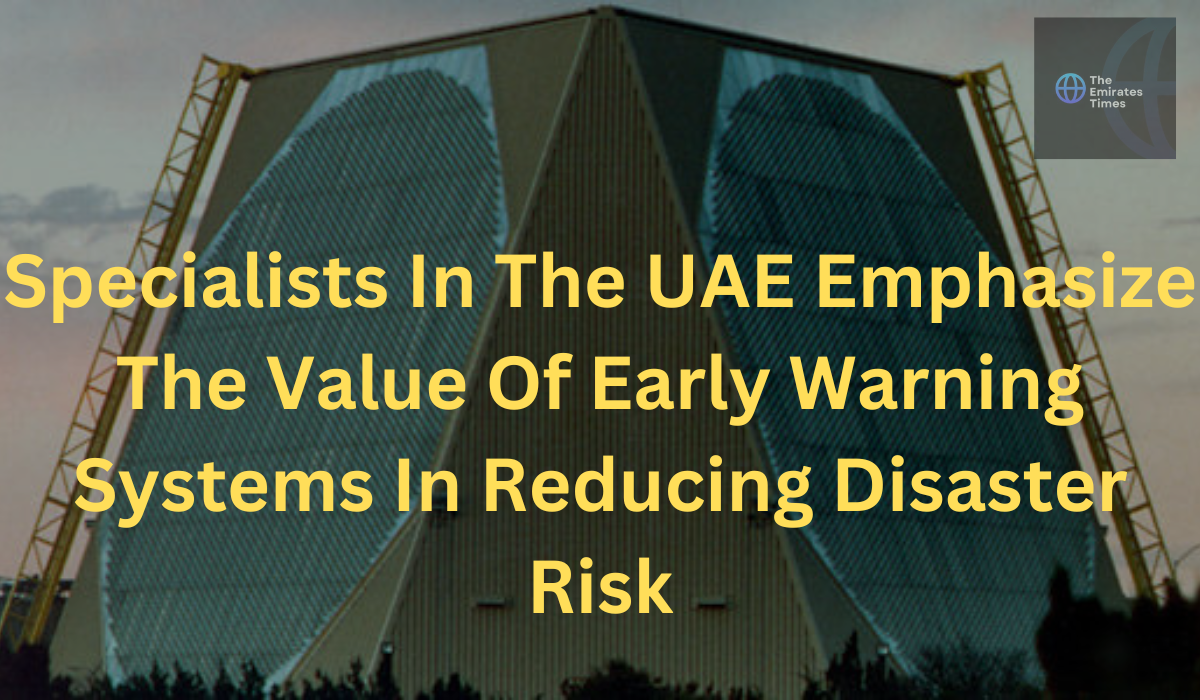 "All nations should aim to prevent disasters by increasing the availability of multi-hazard early warning systems and disaster risk information."
The National Center of Meteorology of the UAE hosts the three-day weather conference (NCM).
The WMO Secretary-General, Petri Taalas, stated that early warning systems aim to reduce the risk brought on by disasters.
The socioeconomic fragility of the population exposed to the dangers increases these disaster risks. As a result, Taalas noted, early warning systems need to be comprehensive and responsive to many sources of vulnerability. Early warning systems are crucial for nations to recognize an oncoming hazard effectively. Also, governments must ensure that those at risk can get the warning notice, comprehend it, and take appropriate action.
"This forum convenes at a time when the State of Climate in Asia for 2020 and 2021 highlights how climate change impacts are wreaking an ever-increasing human, financial, and environmental toll, worsening food security and poverty, and impeding sustainable development in ASIA," Dr. Abdulla Al Mandous, Director General of the National Center of Meteorology (NCM), said during a speech at the conference. Over 50 million individuals in Asia were impacted by weather and climate-related dangers in 2021 alone, costing $35.6 billion in damages.
He pointed out that the big catastrophes of 2022 occurred across the development spectrum, from floods in Afghanistan, Bangladesh, India, Pakistan, and Thailand to earthquakes in Afghanistan, as well as droughts in China and heatwaves in India, Japan, and Pakistan.
According to Al Mandous, "Floods were the deadliest, accounting for 75% of regional disaster events and 89% of all fatalities worldwide.
"To promote the well-being of the current and following generations, the National Meteorological and Hydrological Services have been gathering and standardizing data for the past 150 years that back the weather forecasts we now take for granted. The success story of scientific collaboration to save lives and livelihoods may be found in the history of WMO data exchange and the New Data Policy.
The event, which takes place from March 13 to 16, brings together more than 150 people, including the Permanent Representatives of WMO Members from Asia, senior representatives from WMO and other UN committees and offices, and the ambassadors of the 35 nations that make up RA II Asia.
In light of regional goals, the conference seeks to provide a venue for the National Meteorological and Hydrological Services (NMHSs) of RA II to address new concerns and challenges, develop regional collaboration, and enhance partnerships for putting WMO resolutions and decisions into practice.