August 16, 2023 – Lilian Atho, a remarkable visionary and accomplished leader, stands at the helm of REAL TIME Global, an expansive conglomerate encompassing eight diverse businesses that have left an indelible mark on industries ranging from Tours and Travel to Pharmaceuticals. With her unparalleled leadership, she has achieved extraordinary milestones that have not only elevated her position as CEO and GROUP FOUNDER but have also transformed REAL TIME GLOBAL into a global powerhouse.
Lilian's journey began in her birthplace of Migori, Kenya, on July 24th, 1977. Armed with a Bachelor's degree in Business Administration and a Bachelor's degree in Education, she embarked on her path to success.
Since 2006, Lilian has championed the alignment of daily operations with core values such as diversity, equity, inclusion, and accessibility, fostering a corporate culture that reflects these principles. Her strategic guidance has propelled the conglomerate to unparalleled success, leading to global expansion and recognition.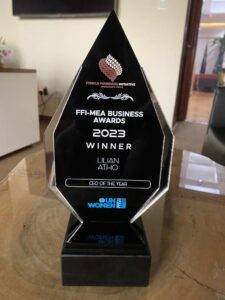 CEO Of The Year Award
Notably, Lilian Atho's outstanding leadership has been underscored by her recent accolade as the CEO of the year, an esteemed honor awarded by the prestigious Female Founders Initiative. This recognition underscores her dedication and transformative impact on the business landscape, particularly across Africa and the Middle East.
Under her astute direction, REAL TIME GROUP OF COMPANIES has achieved groundbreaking international expansion. Branches have been successfully established in strategic locations, including South Africa, Dubai, South Sudan, and China, further solidifying the conglomerate's global footprint. The main office, the heart of this dynamic organization, remains rooted in Kenya – a testament to Lilian's commitment to her home country.
Beyond her professional achievements, Lilian's commitment to social responsibility is exemplified through the Real-Time Foundation Limited. As the driving force behind this non-profit organization, she is dedicated to enhancing the lives of vulnerable children, with a special focus on empowering the Boy Child. Collaborations with international partners, such as HERA MISSION-CANADA, have extended her philanthropic impact across borders, making a positive difference in the lives of many.
Lilian Atho
Lilian's influence extends beyond corporate boundaries, as she has actively participated in international forums. She has served as a former AFRICAN BUSINESS ASSOCIATION Ambassador and Regional Consultant for the NORDIC GLOBAL INVESTMENT FOUNDATION in East Africa, further solidifying her position as a respected global leader.
In summary, Lilian Atho's extraordinary journey from humble beginnings to global recognition paints a portrait of a pioneering leader who has redefined success in the business world. Her commitment to excellence, social responsibility, and innovation has positioned her as an inspiring figurehead driving transformative change on a global scale.
For media inquiries, please contact:
Connect with Lilian Atho on LinkedIn or visit http://www.realtimegroup.co.ke/