We recently interviewed Zubin Rao, Founder and Managing Director at Zuma, and Mallika Dewan Rao, Brand Manager at Zuma. Their brand offers complete design consultancy, including architecture, interior design, product, and landscape design. They take pride in being specialists in interior design, focusing on flooring, lighting, carpets, furniture design, and execution. Zuma is a brand combined with Zubin Rao's technical competence, extensive expertise, and precision added to Mallika Dewan Rao's creative ideas and elegant touch. They aim to reflect the design language of their clients effectively. Let's learn more about Zubin Rao and Mallika Dewan Rao and their journey through this interview below.
Start Of The Journey
We were interested to learn about the career choices of Zubin and Mallika that led them to their current position. So we asked, "Which career path led you to where you are today?"
They shared, "We started working in architecture, design, development, and branding very early. After gaining extensive experience, we decided to launch our boutique brand that caters to the requirements of high-end luxury interiors."
Inspiration Behind Building The Brand
Every business owner experiences specific inspiration in their journey, pushing them forward for a lifetime. We asked, "What inspired you to develop the idea for your company?"
They shared, "Product development has always interested us; we wanted to curate one-off pieces that stand out not only in design but also in quality and technique. With Zuma, each project has a versatile edge, and each carpet is a piece of art; we wanted to develop products/projects that people look forward to investing in when they are building a home or an office, or commercial space, something that is unique; and that has always been the intent and inspiration behind Zuma."
Evolving Priorities
To learn more about the changing priorities of their business, we asked, "How have your priorities in terms of business evolved since you first started?"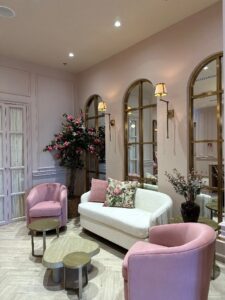 They shared, "The priority has always been good design, great quality, and client satisfaction from the day of inception, and that hasn't changed. In terms of business, we give equal priority to projects of all scales, and to do justice to that, we have developed a team of highly skilled architects, interior designers, and product designers who help us to stay strong and relevant in this dynamic market."
Overcoming Challenges
Experiencing tough challenges is an inevitable part of every business. So we asked, "What are the most challenging situations your company overcomes?"
They replied, "Challenges come not necessarily in your work, but they mostly occur behind the scenes, be it with workforce management, logistical delays sometimes, etc. We have streamlined our processes, and that has helped overcome these challenges vastly, but there's no eradicating them, so we try to keep on our toes as much as we can so that nothing comes in the way of providing seamless service to our clients."
"What's the key strength to overcome it?"
They shared, "Hard work, conviction, and flexibility to adapt."
Stand-Out Factors
We were interested to learn about the unique features of their company that make them distinct amidst the crowd. We asked, "What makes your company stand out from all the other businesses in your industry?"
Zubin and Mallika shared, "We have now become a brand that has broken the stereotype of how carpets were purchased in the market. In our own experience, we have witnessed a shift from people coming in with photos off the internet of what they want, to now coming in with photos of our designs, and they have a recall of all the names of our products and know exactly what they are coming for. In addition, our designs are not only fueling our business but also the business of some of our contemporaries in the market. Today a Zuma carpet is on the referral board of 90 % of the designers in GCC, and a lot of research, development, and hard work has gone into that, so we guess that is what sets us apart from other businesses."
They continued, "In interior design, we try to adapt to clients' requirements and mold it with our design language instead of imposing our style. If you look at our interior design portfolio, each project has a distinctive taste from the other and reflects the client's personality. So I'd say our versatility sets us apart."
KPIs For Measuring Business Success
"What KPIs do you use to measure your business success?"
They replied, "Our recall with the end user and how that recall translates to a client and a client who comes back after their first dealing with us or refers us to friends and family."
Available Services
To get an idea about the services of Zuma, we asked Zubin Rao and Mallika Dewan Rao, "Tell us something about your services. What are you working on now?"
They shared, "Our services can be divided into interior design and carpeting solutions. On the interior front, we are nearing handover for some commercial office spaces and 2 high-end luxury golf course villas; for carpets, we are working on our new collection that will be launched in the last quarter of this year."
Effective Teamwork
Success in any business comes with effective teamwork and intense bonds. We asked, "How do you build trust with your employees and boost productivity without causing burnout?"
They shared, "We have a very young and creative team. So, the environment in our workspace is conducive to creative thinking. We welcome thoughts and ideas and share a friendly rapport with our team. It's a fun workspace, and we don't like to be unreasonably rigid if the tasks are being done well. Our team has the freedom to perform, which brings out the best in each of them."
Adapting To the Latest Technologies
Fresh technologies and trends also play a crucial role in the success of a business. We asked Zubin Rao and Mallika Dewan Rao, "How do you stay on top of new technologies and trends in your industry?"
They shared, "Our production lines have been developed to be adaptive to new technologies in our relevant industry, there's always new product development that is going on in the background for us to test the effectiveness of new technologies, and if we feel anything is making the processes better or the designs sharper then we don't shy away from including such technologies or trends to our main product lines."
Advice To Beginners
For beginners starting in a similar industry will be inspiring and helpful to hear from experts like Zubin Rao and Mallika Dewan Rao. We asked, "What advice would you give to starting entrepreneurs?"
They shared, "Start somewhere, work hard, trust your creative ideas, and take a leap of faith. If honest efforts are being put in, they are bound to translate into something meaningful."
Find Zuma on ZUMA Design Consultants FZ-LLC: Overview | LinkedIn, ZUMA (@zumadesignconsultants) • Instagram photos and videos, ZuMa Design Consultants FZ-LLC – YouTube or visit http://www.ZuMa.ae.