We recently had the privilege of interviewing Ahmed Siddiqui, CEO of Zeejprint, a printing and designing service. In this position, he is associated with more than 150 professionals committed to offering top-notch printing services and solutions to numerous other businesses across Saudi Arabia. He holds expertise in this industry and has an in-depth understanding of market trends, customer needs, and challenging situations in the Business. With Zeejprint, they provide their clients with efficient print material that is cost-effective at the same time. Let's learn more about Ahmed Siddiqui and his journey through this interview below.
Inspiration Behind This Journey
We started the interview by asking, "What inspired you to join the print industry and led you to where you are today?"
He shared, "Frankly speaking, I used to think not to join the print industry when I was in school. Many relatives were working in the print industry, including my dad. Everywhere was the buzz about printing. So I attempted to get something different for me.
I picked many programming courses to avoid designing when I enrolled for my diploma. Still, I had to choose a subject called Desktop Publishing, In which we learned much about graphic design and publishing, and I got interested in the creativity of the graphic industry."
He continued, "Fortunately, I received an attractive offer before even getting my diploma in my hand, and like this, I started my career as a graphic designer. I worked for several printing presses, including a publishing house.
My career as a manager started in the early stage as there was a blessed coincidence. I was promoted to a management position wherever I worked. It led me to the idea of study and practice management.
I have been given responsibilities one after another. I could have fulfilled my duties only by learning new skills.
And as I always say, learning makes you skilled, and skills make you valuable. So I also became helpful in the marketplace.
I have been working for a long time with Mr. Abdulaziz Alomran, a business tycoon and my mentor. I was able to learn a lot from him regarding Business, and alhamdulillah, I climbed the ladder step by step and reached where I am today."
Contribution To The Major Ideas
We were intrigued to learn about Ahmed Siddiqui's significant contributions toward expanding the idea of Zeejprint. We asked, "Zeejprint is known as a digital printer. What was your contribution to spreading this idea?"
He shared, "Our first production unit was started in 2003, and we have seventeen locations today. All of them are equipped with digital printers. Our offset setup is so advanced to print short-run jobs quickly. We became experts in digital printing and are well known for it.
There were few digital printers in Saudi Arabia. Printing jobs required weeks to deliver. So the idea of short-run printing was quite exciting. Our customers could print the quantities they needed within a short time. Some jobs could be delivered within hours. It was a significant benefit for our customers.
New technology and ideas have their challenges. We had to study a lot and do a lot of experiments to understand the technology. We aimed to achieve high quality with small machines compared to massive engines' rate. We had to train our customers how to prepare the artwork so they could get the best output.
It was a challenging task. Spreading the idea throughout the KSA took a lot of time and effort. Today, you can see digital shops everywhere. Most of them might need to be made aware of these challenges.
We did whatever was necessary. I was lucky to have a team of experts and friends who helped me develop the idea."
Evolving Priorities
Over the years of functioning, businesses tend to change their goals and priorities. So we asked, "How have your priorities in terms of business evolved since you first started?"
Ahmed replied, "Since the first day, we have focused on customer satisfaction. Be it quality or speed. We deploy the best types of machinery and materials.
Becoming the lowest price was never our priority, but we aimed to adopt new technologies and methods to reduce costs. So ultimately our customers can enjoy lower prices.
Hiring talents and training is also an evergreen priority for us. We are blessed to have a very talented team. Sustainability has been added recently as a new priority. We are looking into every aspect, including inks and papers."
Overcoming Obstacles
Every Business faces inevitable challenges in the market. To learn how Ahmed Siddiqui and his team handle such challenging situations, we asked, "What are the most challenging situations that your company overcomes?"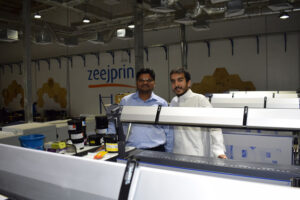 Ahmed Siddiqui shared, "As you know, Business is full of challenges. As far as the most challenging, I can think of two. The first one was in the early stages. Digital printing was considered low-quality printing at that time. We needed help changing this mindset—introduction, training, showing proofs, etc. And today, I feel proud to see digital printing as one of the mainstream printing in KSA.
Another significant challenge was to keep our colleagues untouched by the Covid consequences.
The printing industry is one of the most hit industries by Covid. We had made many plans to minimize the effects on our team, and I feel proud to say that our team would be the least affected by Covid."
"What's the key strength to overcome your challenges?"
Ahmed Siddiqui replied, "Our strength is in our team. They are incredible in handling difficult situations. Whenever we had any challenge, they came ahead to face it like a jinn. They always stood with the company. We have made many impossible things possible together. I am fortunate to have them and always grateful to them."
Stand-Out Factors
To stand out amidst the crowd in the industry, businesses need to focus on building certain unique features. We asked, "What makes your company stand out from all the other businesses in your industry?"
Ahmed Siddiqui shared, "Instead of standing out, I prefer to complement each other. We aim to offer the best possible services by all means. Our team has more than twenty years of experience. Our customers get the advice for free which is a value-added service. These valuable services have been provided through seventeen locations which make us the largest chain of printing presses in Saudi Arabia. So our customers can get benefits all over the Kingdom using just one account."
KPIs For Measuring Business Success
"What KPIs do you use to measure your business success?"
Ahmed Siddiqui replied, "We measure our performance by customer satisfaction. The higher the number of happy customers, the luckier we are. We take every complaint very seriously. Customers' feedback, suggestions, and ideas influence our strategies.
We are fortunate to have around 98% satisfied customers."
Available Services
To learn about the latest services available at Zeejprint, we asked, "Tell us something about your services. What are you working on now?"
Ahmed Siddiqui shared, "Generally, we are in graphic designing and printing services. We accept almost all printing jobs, from business cards to signage. However, recently we extended our services to web development and digital marketing services. NFC business cards are one example of upcoming online products."
Effective Teamwork
Strong bonds among the entire team are paramount when reaching the heights of success for any business. We asked, "How do you build trust with your employees and boost productivity without causing burnout?"
Ahmed Siddiqui shared, "We are in the advertising industry, where burnout cannot be eliminated. However, we adopt new technologies and techniques to boost the productivity of our team members."
Adapting To The Latest Technologies
We were interested in learning how Zeejprint matches the top trends and technologies to stand out in the industry. We asked, "How do you stay on top of new technologies and trends in your industry?"
Ahmed Siddiqui shared, "We are a technologically advanced printer. There are many machines we deployed for the first time in the region. For instance, we are using a LED UV offset printer, the only machine of this kind, as per my limited knowledge today. It enables us to print even large quantities in a very short time.
Not only the hardware but also deployed the most advanced software. Our website is an online print shop. A large number of products can be ordered online. It is another example of how we stay with the industry trends."
Advice To Beginners
Starting in a similar field will be inspiring and helpful to hear from an expert like Ahmed Siddiqui. We asked, "What advice would you give to starting entrepreneurs?"
Ahmed Siddiqui shared, "Business is a game. It has rules to play. We must understand the rules before playing a game. So my advice is to study Business before starting and then learn new skills from the books and the people."
Find Ahmed Siddiqui on LinkedIn.
Find Zeejprint on LinkedIn or visit https://www.zeejprint.com/.