We had the privilege of interviewing Dr. Ishha Farha Quraishy, an inspiring personality. She is the CEO & Founder of IFQ Technologies, which aims to become a global leader in AI and Metaverse. Her brand is unique, and the features are on the next level, making it unique, with no competitors in the industry at present. Dr. Ishha Farha Quraishy has an exceptional educational background and expertise in various aspects, from acting, dancing, and singing to being an excellent student and a fantastic entrepreneur. Dr. Ishha Farha Quraishy is also officially reigning Mrs UAE United Nations. Let's learn more about Dr. Ishha and her journey through this interview below. 
Early Life And Education
We started the interview by asking, "Tell us something about you, your early life, and your education." 
She shared, "It was never a cakewalk. Life always takes a journey through roller coasters: unexpected, uninvited challenges, troubles, and tragedies. However, it's all about how you recover and stand on your feet that determines your success. Throughout my journey, challenges never deterred me, starting from my childhood.
I completed my post-graduation at St. Joseph's College, where I was the Chairperson in my final year. I also received the Student of the Year award and was recognized as the best student in my state that year by a news magazine and a bank. Additionally, I was honored with a proficiency award for being the top scorer in the university exams. My academic journey was remarkable, and I excelled not only in studies but also in the entertainment industry. During that time, I was involved in live television shows, released a successful music album, and even took on speaking engagements. I was a trainer Performer of Indian Classical Dance forms which bought recognition and opportunities from various forms of art, cultural , entertainment and Film Industry during my School and University days."
She continued, "Balancing academics and the arts, I secured my first job at Infosys even before completing my graduation. While at Infosys, I pursued my post-graduation, which was a full-time course. This meant working overnight at Infosys and spending my days at college and university laboratories working on projects.
My chosen subject leaned more towards practical application than theory, making it challenging to manage my post-graduation workload. Despite the difficulties, I persevered and even pursued two post-graduate diplomas alongside my biotechnology studies—one in bioinformatics and the other in SAS – Clinical research software.
I also received admission to Utrecht University in the Netherlands for my Ph.D., but I decided to take a different path. I joined Wipro Technologies, subsequently moving to VMware, then HP, and continuing my career in the UAE. My journey in the UAE began at GEMS Education  corporate head office Technology Team. I became the practice head for cloud and infrastructure at Finesse, a Technology Integrator . After Finesse, I became the Middle East head for SDLC Corp and established my own company, IFQ Technologies, which was the result of passion since yrs to focus and build along the fast pace of Technologies that's is advancing every day.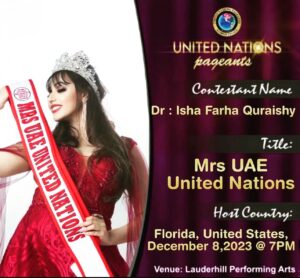 At IFQ Technologies, we focus on emerging tech and eagerly embrace any new advancements in the market. Our primary focus areas are AI and the Metaverse, along with other cutting-edge techniques. We've aided various industries in their transformation journeys and the digital explosion. Additionally, I am associated with 3i Infotech, a renowned publicly listed company, where I serve as a business vertical head for Metaverse and AI . I am also a Global Ambassador for Hevolus innovation, a Microsoft strategy partner.
My journey has been diverse and fulfilling, marked by my involvement in academics, arts, entertainment, and corporate pursuits. Currently, I hold the title of Mrs. Universe and am set to compete as Mrs. UAE at the United Nations—an unprecedented achievement for the UAE. I am an international speaker, a fashion icon, and a show-stopper. I've received numerous awards and accolades for my contributions. I am an active volunteer with the Community Development Ministry UAE , Peace Ambassador for Diplomatic Mission for Global Peace UN , certified member for National Human Rights & Women Rights of India, a member for Global Leaders forum Dubai , and Ambassador for World Women Health Organization  and continue to be deeply involved in art, music, fashion, and acting. On the professional front, I am dedicated to IFQ's growth as a corporate leader, focused on building its vision over the next 5-10 years and positioning it on a global scale."
Presence In The Industry
We wanted to learn more about the presence of Dr. Ishha Farha Quraishy's business in the industry. We asked, "Tell us about the business and its presence in the GCC." 
She shared, "We are headquartered in the UAE and are focused on the Middle East market, starting from the UAE and expanding to Saudi Arabia—one of our targeted markets—as well as Qatar and Bahrain. We are also targeting the African market and India. As the next step, we have plans to expand to the UK and USA, facilitated by our strategic partner, and reach a global scale. Furthermore, we have an exclusive partnership with one of the world's largest  AR-VR companies like , EON reality , and a strategic collaboration with Microsoft and AWS.
Hevolus Innovation also plays a significant role in our expansion and growth, particularly in the realm of emerging technology platforms. We believe that IFQ is positioned to be a standout company with the capacity to provide cutting-edge technologies that are relevant to today's industry, thus propelling businesses to the next level."
Visions For The Business
Every business owner has specific goals for taking their business forward. We asked Dr. Ishha Farha Quraishy, "What are some of the growth and expansion plans you have in your pipeline?" 
Dr. Ishha Farha Quraishy shared, "We are currently in the process of global expansion, with the Middle East being our initial target market. We are forging partnerships with governmental entities in this endeavor. Our primary areas of focus encompass health tech, edu tech, and tourism. Notably, the platform we offer boasts unique features that are currently unavailable in the market. We stand as the sole competitors in terms of our platform's capabilities and delivery models for AI and the Metaverse.
Our expansion strategy prioritizes the Middle Eastern and African markets, followed by India, and subsequently extending to the UK, USA, and Singapore. This outlines our current growth trajectory. Within the UAE, we are actively engaged in discussions with government organizations. Our conversations span healthcare and educational institutions, the latter of which are already aligned with our platform and are propelling it to new heights."
Current Year For The Brand
After Covid, businesses have been facing a tough time. So we asked, "How has the year been for your company?" 
Dr. Ishha Farha Quraishy shared, "It hasn't even been a year since the company's formation, yet IFQ has swiftly established itself as a prominent brand within the entire Middle East market. In just a few short months since our inception, we achieved a remarkable milestone: hosting a director general board meeting in the Metaverse for a distinguished Arabic government organization, a first in the history of the UAE. This marked the beginning of our strategic journey, which has been nothing short of incredible. Presently, IFQ's focus lies on fulfilling the Metaverse strategy of the UAE and aligning with the vision of our leaders.
Our objective is to establish a dedicated AI center that prioritizes job creation while providing an immersive experience that adds value to various industry verticals. Our current brand presence is considerable, as we have already formed partnerships with educational institutions, healthcare entities, and players in the tourism sector, including several government bodies. Achieving completion of these collaborations will mark a significant milestone for IFQ. Our vision has always centered around solving problems effectively.
There tends to be a misconception about technologies such as the Metaverse and AI, with some organizations adopting them merely at a surface level for show, without fully comprehending their potential applications. At IFQ, we maintain a clear and focused approach. We are determined to leverage these technologies to bring tangible value to the forefront. Our strategy involves identifying problems, offering solutions, and positioning our partners for future success. By doing so, we ensure that they not only scale their businesses and remain competitive within the industry but also avoid being left behind in the evolving landscape over the coming months."
She continued, "A typical example is that by the time you come up with a POC and go live, the technology changes, and more advanced technology is already in the market. This is how the emerging technology journey typically unfolds. Some traditional technologies may persist for 5-10 years, with occasional upgrades and the introduction of new features and functionalities. Consequently, this steady trajectory is not an exceptional phenomenon for certain conventional technologies in the market. However, technologies such as AI, Metaverse, and Blockchain are fast-growing, especially given the global shift towards Web 3. In such a context, it becomes essential to target these areas and continuously adapt to market changes.
With scalability in mind, we deliver our platform to foster industry growth and align with specific requirements within their current scenarios. Our approach is rooted in problem-solving. Rather than imposing a standardized platform on any industry, we tailor our solutions to address the unique needs of specific sectors. While certain industries may not require the platform, specific use cases can yield significant impacts, transforming day-to-day operations. In this regard, IFQ assumes a vital role by engaging closely with customers, comprehending their needs and challenges. We stand ready to solve these problems and bring substantial value to the forefront."
Available Services 
We were intrigued to learn about the current services offered by Dr. Ishha Farha Quraishy's brand. So we asked, "What does your business offer in the current competitive market?"   
She said, "We are already at the top in the competitive market. That is my confidence today because we are delivering the most advanced technology available in the market, and our platform has no competitors. And with our strategic partners, like Eon Reality, Hevolous Innovation and a few others that we have today, the platform is capable of delivering the most advanced technology in its finest form, be it any industry for that matter, it is doable, and it can be provided. 
Now we have focused on giving back to society also in another side wherein we want to empower, revenue generation, we wanted to empower the education industry, look at healthcare which is the essential thing in our day-to-day activities, and how we can bring that into another level and we are focused on post-pandemic recovery programs as well in association with some of the grand programs through our strategic partners. We are setting up a particular AI center in different parts of the world. So that will make a difference and total change in the industry and how the market looks at technology and innovation." 
Effective Teamwork
For the success of any business, it is paramount to build effective team relations that can lead to enhanced productivity. We asked, "What measures do you think employees and organizations can take to build effective teamwork and unity?" 
Ishha Farha Quraishy shared, "It's an intriguing question, as I've always believed that success doesn't come from individual efforts alone. It's a collaborative endeavor between you and me, working together as a team to construct something meaningful. IFQ's philosophy centers on creating a supportive ecosystem. Thus, we don't perceive anyone as just a competitor; we view potential competitors as prospective partners. Their capabilities can complement ours in various ways.
Likewise, fostering a friendly relationship among partners, customers, and even competitors is crucial. By doing so, we establish an ecosystem that thrives on mutual support, enabling collective growth. This aligns with our core belief, exemplified by our tagline: "power to the people." We strive to empower individuals in a manner akin to the widespread recognition of open AI.
Furthermore, we're actively establishing an open Metaverse, accessible, available, and affordable to every individual across the globe. This is our target—positioning ourselves as tomorrow's industry leaders or, as we are already on the trajectory, among the top leaders in our domain. Throughout this journey, we are constructing an ecosystem that empowers and uplifts people, embodying our commitment to "power to the people.""
Innovative Ideas
We further asked Dr. Ishha Farha Quraishy, "Tell us about the company's focus and investment in research and innovation." 
She shared, "The company is fully aligned with the sustainability goals set by the United Nations. Additionally, I hold the role of an ambassador for the diplomatic mission focused on global peace within the United Nations. Within the scope of the 17 sustainable goals, we have selected four critical objectives that are of particular importance to us. One such goal is quality education, which is why we place a strong emphasis on technology and good health.
In the realm of health technologies, we are making significant strides, including the launch of new IPS (Innovative Product Solutions) in the healthcare sector. We're also introducing learning and tech platforms as part of IFQ's intellectual property (IP). The third goal we've chosen is gender equality. We're actively promoting women in tech, encouraging more women to participate in entrepreneurship, leadership, and technology-related roles.
Lastly, our fourth goal is Climate Action. To this end, we've developed AI-based satellite technology aimed at carbon reduction and promoting sustainability. Our commitment to sustainability is evident across all our industries, platforms, and industry verticals. Furthermore, a notable initiative on the horizon is the nationwide rollout of the Spatial AI center."
Dr. Ishha Farha Quraishy added, "Through our existing partners, many countries are already participating, and the UAE is preparing to join as well. Our vision centers on achieving a nationwide rollout of this initiative within the UAE. We have already pinpointed specific entities. For instance, in the education sector, should I choose a university, they will lead the charge as pioneers of this cutting-edge technology, driving progress in their respective industries and the nation at large. This approach applies similarly to the healthcare and energy sectors, among others. Effectively, we have identified the trailblazers.
Across every industry vertical, we intend to appoint these leaders as partners for dedicated AI centers. They will retain ownership of their intellectual property (IP) and wield cutting-edge technology platforms, enabling nationwide deployments for their respective industries and other industry leaders. This comprehensive plan represents a remarkable and extensive undertaking. Complementing this endeavor, we will establish an innovation lab, facilitating continuous research and development, and much more.
As a part of our Corporate Social Responsibility (CSR) commitment, IFT is diligently pursuing a significant initiative named "Beyond Determined." This project aims to empower individuals of determination through technology. We are targeting exceptional individuals worldwide—heroes who have left an indelible mark and exemplify unwavering determination. These individuals have distinguished themselves as experts, speakers, athletes, Formula One racers, Guinness World Record holders, NASA scientists, doctors, and researchers, even in the face of exceptional challenges. By uniting these exceptional minds, we aspire to establish the UAE as a bastion of excellence and a thriving business hub. This initiative will encompass a continuous rollout program, enabling individuals of determination to achieve self-sufficiency and self-guided learning, independent of external assistance. Another groundbreaking development involves the introduction of Miss Wheelchair World to the UAE for the first time in history. These initiatives stand as testaments to our aspirations, poised for impactful implementation. In this ambitious journey, we humbly seek your support and prayers to ensure their resounding success."
Tips For Beginners
Beginners starting in the same field will undoubtedly find hearing from an expert like Dr. Ishha Farha Quraishy inspiring and helpful. So we asked, "Any tips for startups looking to get onto a similar pathway?" 
Dr. Ishha Farha Quraishy replied, "So the tip for the startup is that, you know, everything always has its risk. People always, you know, wanted to be in the comfort zone of an employee, employee as an employee, but rather, you know, taking that risk and coming out of that comfort zone.
And being an entrepreneur is not a small thing. So every startup will have to go through a phase. There definitely will be a struggling phase. But if you want to make a mark and bring it up in your life, you must go through it. So always work on reverse psychology. It is so essential that you first have a strong team within you." 
She continued, "Instead of initially targeting the largest clients and customers, it's essential to establish a strong foundation within your own team. Once you have a robust structure in place, you can then set your sights on pursuing significant targets. I'm not an advocate of relying solely on organic growth. I firmly believe in pursuing significantly accelerated or agile growth.
In the ever-evolving landscape of technology, changes occur daily, with new developments constantly emerging. To stay at the forefront, you must keep a keen eye and ear out for emerging trends. Adaptability and readiness to embrace change are paramount. Should technology evolve, your company's strategy should remain steadfast, but the path your company takes may need to evolve. Being open to change based on ongoing developments is a vital success factor.
The cornerstone of success lies within the company itself, as I previously mentioned. This crucial insight is fundamental for every startup. Even though navigating this path may be challenging, having a clear vision of your goals and what you aim to achieve is paramount. Remember, the sky is not the limit, nor is the atmosphere—it's an infinity of possibilities."
Connect with Dr. Ishha Farha Quraishy on LinkedIn or Instagram. 
Find IFQ Technologies on LinkedIn or visit https://ifqtechnologies.com/.