Powerful tools for personal branding and business promotion have materialized in the form of social media platforms in today's digital age. Among those who have fully embraced the potential of TikTok is Jordan Hisham, an individual characterized by unwavering dedication and tireless efforts. He has built a content creation legacy with his exponential growth. Witnessing an astonishing growth from zero to an impressive 1.2 million followers and accumulating over 700 million views only within 6 months, Jordan Hisham's journey to success unveils his remarkable ascent in Dubai's real estate industry. Let us now recount the captivating story of Jordan Hisham's journey to success and how he became a prominent figure in Dubai's real estate industry as well.
Persistence Pays Off
Building a substantial following on TikTok is no easy feat, but Jordan Hisham was determined to make it happen. Day in and day out, he faced countless rejections and obstacles, yet refused to give up. Creating content that resonated with his audience proved to be a continuous challenge, but his unwavering passion and dedication drove him forward. Through perseverance and unwavering determination, he overcame the hurdles that crossed his path, establishing himself as a content creator in the real estate niche on both TikTok and Instagram.
A Luxury Real Estate Consultant with a Difference
While his TikTok success gained momentum, Jordan Hisham astutely capitalized on his expertise as a licensed luxury real estate consultant. Dubai, renowned for its lavish lifestyle and extravagant properties, became his domain. In the span of just a year, he facilitated transactions totaling over 150 million in Dubai's real estate market, firmly establishing himself as a trusted advisor to discerning clientele in pursuit of high-end properties. By synergizing his online prominence with his acumen in the real estate realm, he emerged as an influential powerhouse within Dubai's real estate industry.
A Well-Rounded Individual
Behind the viral TikTok videos and his thriving real estate career lies a multifaceted individual with much more to offer. Driven by an insatiable thirst for knowledge and personal growth, he has consistently pursued higher education. With a Master's Degree from St. Petersburg and a subsequent PhD, he demonstrates both his unwavering curiosity and his capacity to thrive across various domains.
Jordan Hisham passion for learning extends beyond academia, as evidenced by his voracious reading of over 200 books and his exploration of 45 countries. These enriching experiences have molded him into a discerning and worldly individual, adept at forging connections with people from diverse backgrounds. Endowed with exceptional interpersonal skills, he comprehends the significance of striking a harmonious balance among the needs and expectations of all parties involved.
Jordan Hisham journey extends far beyond TikTok and the realm of real estate. In 2018, he boldly embarked on an entrepreneurial endeavor, establishing a business in Europe. Regrettably, the relentless onslaught of the Covid-19 pandemic posed formidable obstacles, impeding his path to success. Nevertheless, he exhibited unwavering perseverance, leveraging this setback as a catalyst for personal growth and resilience.
Furthermore, Jordan Hisham presence is known to thousands across Russia, courtesy of his participation in a nationally televised program on the TNT network. Prior to his online triumphs, he enjoyed a remarkable career as a professional basketball player and swimmer, exemplifying his unyielding determination and unwavering discipline.
Living a multicultural life has also broadened his perspective. He has spent extended periods in various cities across Europe and Asia, including Paris, Vilnius, Warsaw, Bodrum, Istanbul, Berlin, and Moscow, in addition to my home city of Saint Petersburg and Cairo . This multicultural exposure has made him open-minded and adaptable, embracing diversity and different perspectives.
Furthermore, Jordan Hisham has honed his language skills, fluently speaking English, Russian, and Arabic. He is also proficient in French, Turkish, and Ukrainian to varying degrees, facilitating effective communication and building connections with individuals from different linguistic backgrounds.
The Future Holds Infinite Possibilities
As he reflects upon his journey, he feels a profound sense of gratitude for the opportunities that have unfolded before him. From amassing a colossal following on TikTok to solidifying his position as a trusted real estate consultant, he has unequivocally proven that unwavering dedication, tireless determination, and an insatiable thirst for personal growth can yield remarkable accomplishments.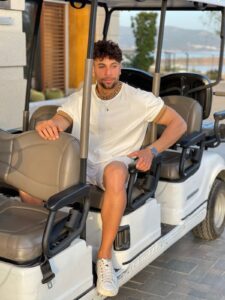 Looking ahead, he harbors ambitions of further expanding his digital footprint, curating captivating content that not only entertains but also educates and inspires his ever-growing community of followers. Additionally, he aspires to make meaningful contributions to the real estate industry by sharing his vast knowledge and experiences through diverse platforms, including captivating public speaking engagements and thought-provoking written articles.
Let's end this in an encouraging note where Jordan Hisham says, "To those who dream of achieving their goals, I encourage you to embrace hard work, persist in the face of adversity, and continuously seek personal growth. The possibilities are endless when you combine passion, dedication, and a willingness to learn."